The Euro, Dollar and Gold: Which Would Benefit More From Yuan Revaluation?
Traditionally, China is blamed for holding its currency at an
artificially low level to spur exports. If the yuan appreciates, it
would be bullish for everybody but China, because there will be more
exports and higher growth in Europe and the U.S. But it could also lead
to higher prices on Chinese goods imported to the US, causing inflation
and leading the Fed to hike interest rates sooner. China couldn't
function without massive orders from the U.S. The U.S. Treasury is
counting on the Chinese to hurl money at the US, which held down
interest rates.
The following USD-yuan chart (
click to enlarge
) shows that $1US=8.3 yuan before 2005. Now $1US only worth $6.8 yuan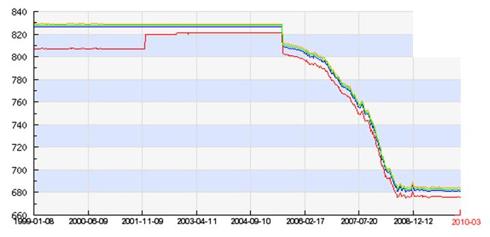 Comparison between the U.S. and EU
The
euro has depreciated dramatically against the U.S. dollar over the past
few months. The move has caused many investors to question the
viability of the EU and its currency. George Soros called the euro
patently flawed because EU members had to independently rescue their
banking systems in the 2008 crash. According to the IMF, the U.S.
dollar accounts for 64% of global central bank reserves, versus 26% for
the euro. If China stays away from the dollar, the euro and gold could
be the biggest beneficiaries.
The economies of
the EU (27 countries) and euro zone (16) are similar in size to that of
the U.S. The following data from Forbes shows the EU is in a better
shape:
| | | |
| --- | --- | --- |
| Descr | US | EU |
| 2009 GDP Growth | -2.7% | -4.2% |
| 2009 Inflation | 2.7% | 0.9% |
| Deficit as % of GDP | 10.6% | 6.9% |
| Gross National Debt as % of GDP | 87% | 84% |
Gold Advanced Against All Major Currencies
Countries
around the world fostered the inflation of assets prices by
transferring trillions in private sector debts to the balance sheets of
governments. As a result, SPDR Gold Shares (
GLD
) was up 28% since Jan 1, 2009. Following chart from
Minyanville
shows gold's movement against other currencies (
click to enlarge
):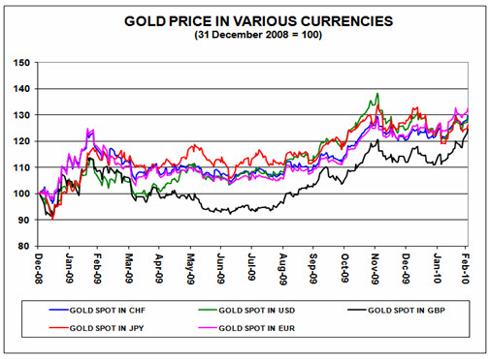 Commodity Currencies: AUD & CAD
Commodity
companies are likely to continue their role as leaders around the
globe. This will be driven by dollar woes and rising demand for
commodities from emerging economies. China's appreciated yuan could
boost commodity currencies such as the Canadian and Australian dollar
as well.
The following
FXCM Speculative Sentiment Index (
SSI
)
from DailyFx shows that the ratio of long to short positions in the
USDCAD stands at 3.39 as over 75% of traders are long. The SSI is a
contrarian indicator and signals more USDCAD losses.

Over the last few months, CurrencyShares' Canadian Dollar Trust (
FXC
)
has been stuck in a trading range between $93 and $97. Even though I am
long the Canadian dollar, I wouldn't increase my position at current
levels.
20 Main Currency ETFs/ETNs (by Net Assets)
| | | |
| --- | --- | --- |
| Fund Name (Ticker) | Net Assets | Expense Ratio |
| PowerShares DB US Dollar Index Bullish (UUP) | 2.15B | 0.58% |
| CurrencyShares Australian Dollar Trust (FXA) | 699.47M | 0.40% |
| CurrencyShares Euro Trust (FXE) | 610.44M | 0.40% |
| CurrencyShares Canadian Dollar Trust (FXC) | 593.78M | 0.40% |
| WisdomTree Dreyfus Chinese Yuan (CYB) | 439.94M | 0.45% |
| PowerShares DB G10 Currency Harvest (DBV) | 413.60M | 0.81% |
| CurrencyShares Swiss Franc Trust (FXF) | 330.44M | 0.40% |
| PowerShares DB US$ Index Bearish (UDN) | 254.15M | 0.57% |
| WisdomTree Dreyfus Emerging Cur (CEW) | 247.79M | 0.55% |
| CurrencyShares Japanese Yen Trust (FXY) | 246.27M | 0.40% |
| WisdomTree Dreyfus Brazilian Real (BZF) | 149.12M | 0.45% |
| CurrencyShares British Pound Sterling Tr (FXB) | 103.84M | 0.40% |
| CurrencyShares Swedish Krona Trust (FXS) | 40.75M | 0.40% |
| CurrencyShares Mexican Peso Trust (FXM) | 34.74M | 0.40% |
| WisdomTree Dreyfus Indian Rupee (ICN) | 27.73M | 0.45% |
| iPath Optimized Currency Carry ETN (ICI) | 27.44M | 0.65% |
| WisdomTree Dreyfus New Zealand Dollar (BNZ) | 17.67M | 0.45% |
| WisdomTree Dreyfus South African Rand (SZR) | 11.01M | 0.45% |
| CurrencyShares Russian Ruble Trust (XRU) | 8.25M | - |
| Barclays Asian & Gulf Cur Reval ETN (PGD) | 6.48M | 0.89% |
Currency Carry Trade
The
idea of carry-trade is to capture the interest rate spread between
different currencies. An investor borrows money in a low interest rate
currency, such as the dollar, yen or British pound and then invests the
proceeds into higher yielding currency such as Australia (3.75%) and
Brazil (8.75%). The most popular ETF which adopts this strategy is PowerShares DB G10 Currency Harvest (
DBV
).
Conclusion
China
faces pressure to appreciate the yuan when the U.S. dollar is weak.
When the dollar weakens, the yuan effectively devalues against other
currencies as well. If the dollar weakens enough, China might be forced
to revalue. On the other hand, the strengthening dollar means less
pressure on China. Either way, it seems like a safe bet that global
pressure would prevent China from allowing the yuan to depreciate any
further.
Foreign-currency fluctuations are driven
by factors such as interest rates, economic growth and deficits, and
not just in the United States, but also in foreign countries. Also, the
change in sentiment can flip quickly. Nonetheless, maintaining some
long-term non U.S. dollar exposure is another way to diversify your
portfolio.
As Peter Schief writes in his book,
Crash Proof 2.0
,
China might finally pull the plug on its currency peg, allowing the
dollar to go down the drain. The dollar has been losing value against
other currencies in part because foreign appetite for U.S. assets is
waning. As long as the trend continues, you could make money on
currency ETFs which hold stronger foreign sovereign bonds paying
interest.
Disclosure:
Long FXC. Data are from Yahoo Finance and
Sina
as of March 5, 2010.